Residential and Commercial Plumbing Service
W.C. Esp does more than simply take care of your home heating and cooling needs. We have now added residential and commercial plumbing to our list of services. Count on Esp for any plumbing job big or small, from new installations to repairs. We can also work on outside plumbing and virtually any heating system piping needed for your home or business.
All plumbing work done by a licensed plumber. We subcontract.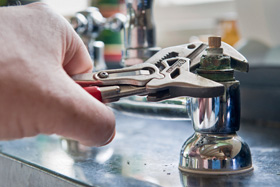 W.C. Esp can address all your plumbing needs, including:
Faucet installation and repair
Sink installation and repair
Shower installation and repair
Tub installation and repair
Heating system pipe installation and repair
Kitchen and bathroom plumbing
Outdoor plumbing
Burst pipe repair and replacement
Suffolk County requires plumbers to have 7 years' experience in order to achieve their Master Plumbing license. W.C. Esp's Master Plumber has 20, so all our customers can rest assured that their plumbing is in good hands.
For more information, or to schedule a plumbing service, contact W.C. Esp today.